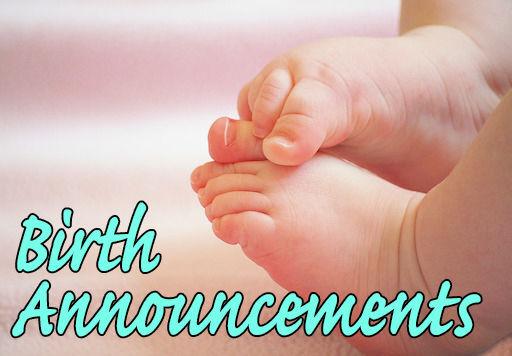 Cabell Huntington Hospital
Brittany Nicole (Gillespie) and Talena Louise Hogan, a daughter, Paisley Jane Denise Hogan.
Tiffany Marie (Cook) and Aaron Joseph Goodrich, a son, Oakley Cade Goodrich.
Nikki Lea (Kopsolias) and Jeremy Todd Spence, a son, Harvey Leonard Spence.
Joselynn Rochelle (Cluff) and Leslie Wayne Ferguson Jr., a son, Kennith Woodrow Ferguson.
Amanda Dawn (Fritz) and Jeremy Allen Henson, a daughter, Erika Sarene La Neil Henson.
Abbigail Marie (Michels) and Mark Andrew Davidson, a son, Peyton Steven Davidson.
Leah Suzanne (Midkiff) and Evan James Morgan, a daughter, Adrienne Elizabeth Morgan.
Destiny Richelle Bostrom and Joe Walden II, a son, Asher Martin Walden.
Amber Nichole (Smith) and Jonah Kaleb Mathis, a son, Silas Joel Mathis.
Jennifer Ann (Cooper) and William Wayne Wray, twin daughters, Charolette Willow Wray and Annelise Salem Wray.
Haley Irene Sexton, a son, Elias Cruz Sexton.
Tabitha Dawn (Crumley) and Willis Dean Johnson, a daughter, Ariella Grace Johnson.
Sharine Lark (Mercado) and Donald Woodrow Walker III, a son, Donald Woodrow Walker IV.
Lisa Rebecca (Davis) and Brian Philip DeFade, a daughter, Giuliana Grace DeFade.
Meredith Annette Legg and Zachary Lee Pemberton, a son, Hogan Lee Pemberton.
Kayla Erin (Hager) and Daniel Ferreira, a daughter, Adriana Danielle Ferreira.
Stevann Tori (White) and Joshua Dean Craft, a son, Leo Dean Craft.
Margie Ann (Cox) and Michael Todd White, a daughter, Elizabeth Marlene White.
Savanna Marie (Hartwell) and Alex Shane Williams, a son, Hank Williams.
Mellisa Gail Webb, a daughter, Alexis Jordan Lewis.
Laura Lee Eaves and Roger Bradley Allen Martin, a son, Roger Braxton Lee Martin.
Belinda Jo (Downer) Friend and Joseph Ramey Malone, a son, John Ramey Malone.
Mereada Renea (Scraggs) LeMaster and Donavan Randall Cummings, a son, Whyatt Bronx Cummings.
Natalie Jo Nutter and Dakota Cheyenne Lycans, a son, Jamison Thomas Elwood Lycans.
Carrie Ann Nicole Clay, a daughter, Reylyn Marie Grace Clay.
Jessica Ann Dehart and Steven Paul Johnson, a daughter, Aliyah Ann Johnson.
Anna Marie (Layne) and Jaron Andrew Rucker, a daughter, Sybil Rose Rucker.
Emily Nicole McCormick and Gregory Brycen Scites, a son, Finley Thomas Russell Scites.
Holly Nicole (Fricke) and Timothy Rudolph Stover Jr., a daughter, Allison Grace Stover.