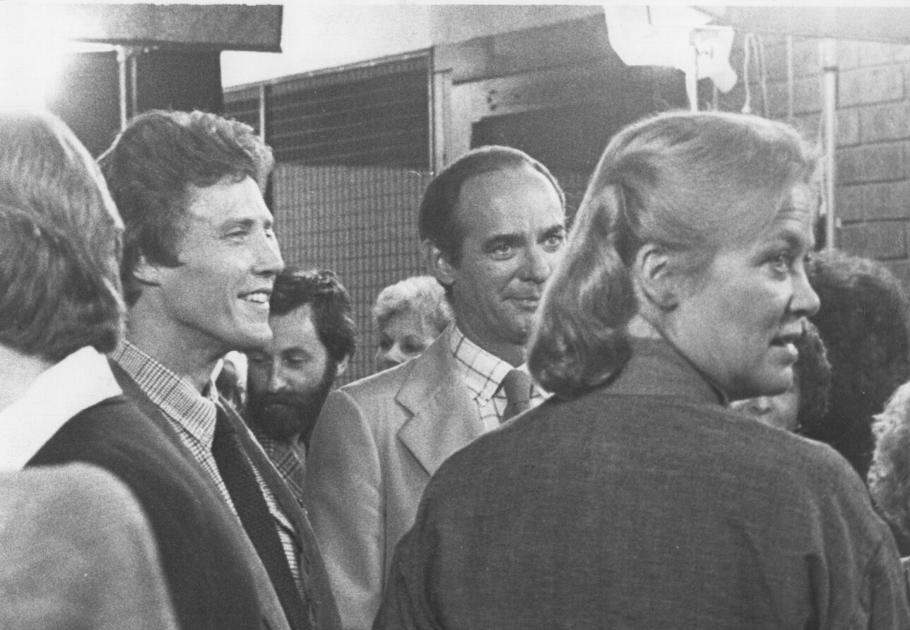 Forty years ago last month, Hollywood came to the Sandhills. Gov. Jim Hunt envisioned a film industry in North Carolina, which would provide work for filmmaking and theater students at North Carolina School of the Arts. He attracted the MGM production of a science fiction movie, "Brainstorm," to the state with the cooperation of Research Triangle Park and philanthropist and businessman, Joe Bryan Jr.
Bryan offered his Sandy Lane Farm, a Young's Road area horse farm, in Southern Pines for location work. Three Oscar-winning actors, Christopher Walken, Cliff Robertson and Louise Fletcher, and legendary star Natalie Wood, herself a three-time Oscar nominee, were presented by Hunt in a press conference on Sept. 24, 1981, to announce the alliance between Hollywood and North Carolina.
In many ways, "Brainstorm" represented an acknowledgment that a Los Angeles-based theatrical film industry was shrinking because of studio overhead. The film studios financed independent producers and looked for tax breaks by filming in states around the country. Cable television, notably HBO, was already presenting older stars like Elizabeth Taylor in television movies, threatening network television. Movies were already losing their allure in cement multiplexes with small screens.
MGM itself, after a decade of divesting itself of inventory, would merge with United Artists to form MGM/UA, and within a few years would phase out of production.
Call for Extras
A call for extras was advertised for Raleigh, Research Triangle Park, Pinehurst and Southern Pines. Community theater actors were cast in small roles. In late October, after shooting at RTP was completed, the production moved to the Pinehurst Hotel (now called the Carolina Hotel) and Southern Pines.
I reported on the production for The Fayetteville Observer and was hired as an extra. Neighbors and friends applied, among them Bill Jones, bartender at the Pine Crest Inn; Kay Lyder Stoffel, who was a retired Broadway and television actress; journalist Cos Barnes and her husband, Harry; Marie Blood, niece of the legendary escape artist Harry Houdini, and her husband, Forrest; local socialite and party-giver Tillie Pitts and her husband, Donald and local actors, Jack Carter, Pat Watson and Bill Watson.
I never knew the names of other extras, but they were chic because the casting call required that expensive party clothes be worn by the extras. (I wore a powder blue Pierre Cardin suit, which I could never wear again because I was walking for two days in horse dung at the Bryan farm on Cross Country Lane.)
Many of the film crew were staying at the Foxfire resort. The casting director asked Andy Hoffmann, the Foxfire receptionist, if she would like to be extra.
In the barn party scene, she was paired with Jack Carter. "Louise Fletcher was told to follow us," Andy recalls.
The original script scene was a vast outdoor garden party at the Bryan farm, which was owned by Robertson's character, an RTP corporate head who is developing what we now know as a virtual reality helmet that can record the thoughts and dreams of the wearer. Scientists Walken and Fletcher were the inventors, with Wood as the industrial designer.
We filmed one day there before heavy rain forced the film company to rewrite it for the barn inside.
Because I was young and knew Robertson, I was cast as a thoughtless party guest who ran in front of the galloping horse ridden by Robertson. Amazingly, he reared up the horse within 10 feet of me. I did this stupid act in the two takes. It was all for naught because the rain made those scenes unusable, and I missed my chance to be cast as an extra inside the barn, which was the only portion used in the film.
But that is how I met Wood, whom I always cherished. I was standing on the sidelines waiting to be called, and I heard a barely audible whispered "Excuse me" in a Marilyn Monroe voice as she smiled when she brushed past me. She was only 5'1", perfectly proportioned and wearing 4-inch stiletto open-toed shoes. In her diaphanous fairy-leaf dress by designer Donfeld, she reminded me of the twirling ballerina on a girl's curio box. She drifted over to 6'4" Walken for a scene and stepped on blocks set there by the crew. Cos Barnes snapped a picture of her on those blocks.
A Lot of Standing Around
The director Douglas Trumbull was a special effects innovator for films like "2001: A Space Odyssey" (1968) and "Close Encounters of the Third Kind" (1977), who never directed another film.
Walken, Wood and Robertson were not given much character motivation by Trumbull and so they improvised. Fletcher had already shot her major scene at RTP, where she suffered a fatal heart attack while wearing the invention she developed with Walken, a helmet that records the thoughts of its wearer.
Wood spoke to Trumbull and told him that the extras were looking at her rather than holding private conversations. He told her they were guests at her party, ignoring the fact that extras were not supposed to be noticing the star, but acting as party guests ordinarily do.
A hastily constructed bar party scene presided over by Walken looked "like one at a mortuary," he remarked to me. My Foxfire friend Marie Blood, who had performed a child shimmy with Houdini in his 1925 shows and looked like Doris Roberts, was brought in to loosen the mood, and Walken sang "Babalu" before the takes, backed up by the Bob Murphy Quartet, who played light jazz through the party.
Blood formed a bond with Wood and Walken. At the wrap party, Wood served and autographed Andre Champagne bottles; she offered one to Blood, who stated, "What would I do with an autograph? Just let me hold you." Wood laughed and embraced her. That was my favorite moment.
I was embarrassed when the stars were constantly approached for autographs and personal pictures. It was a difficult shoot, and the stars and Trumbull cooperated with the intrusive requests. I was rewarded by the stars giving me interviews and letting me do my other job.
I got Wood's autograph on a piece of paper at the wrap party, but I quickly told her that I was asking her questions for my newspaper. She told me that she was starting rehearsals for her stage debut in "Anastasia" in Los Angeles in two weeks.
Three weeks later, we woke up to learn about Natalie Wood's untimely death. The movie was nowhere near completion and a few scenes with Wood were never filmed. Trumbull told Lloyds of London that enough of Wood's part was filmed to counteract the MGM/UA claim that they weren't. Trumbull assigned the Wood scenes to another actor and used Wood's lookalike sister Lana in long shots and shaded profile.
The premiere of sorts was held at the opening of Cinema 4 in Aberdeen in November 1983. (The theater was located where the Nissan dealership is now.) We all attended and toasted Wood's memory. The film itself received mixed reviews and was a commercial flop.
To me, it was an experience I treasured because I observed movie people working and creating. Fifteen years later, I began my 20-year span working as a reporter for the film industry guilds and was envied for working on the last film of Natalie Wood.
Writer Kevin Lewis lives in Carthage.