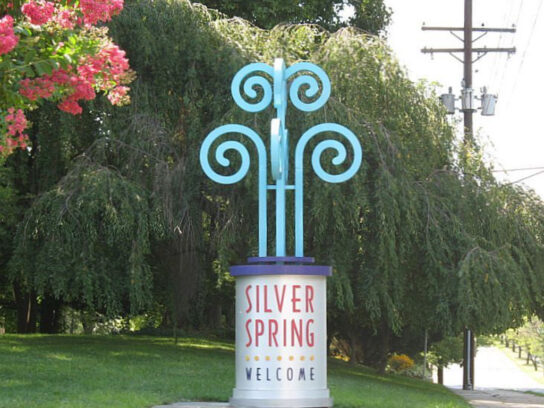 What do you think sets Silver Spring apart as a place for arts and entertainment? The Silver Spring Arts and Entertainment District wants to hear from you. They are asking residents to respond to an online survey about arts and entertainment in Silver Spring. The community survey can be found here.
The state of Maryland encourages the development of artistic and cultural centers in communities by designating Arts and Entertainment Districts (A&E Districts). The Maryland State Arts Council administers the program which works to develop and promote community involvement, tourism and business revitalization through tax-related incentives. The goal is to attract artists, arts organizations and other creative enterprises to the district. Montgomery County is home to three A&E Districts including the Bethesda and Silver Spring districts, both established in 2002 and the Wheaton district designated in 2005.
Every 10 years a new application must be submitted to the state for review as part of the redesignation process. This year, both the Silver Spring and the Bethesda Urban Partnership are submitting applications.
Community members in Silver Spring can help shape and expand upon the aspects that make the Silver Spring Arts and Entertainment District unique. Silver Spring features a variety of performance, film, and entertainment venues. Prior to the COVID-19 health crisis, it hosted more than 500 public events each year.
Residents who have additional ideas that could contribute to the arts and entertainment in Silver Spring are invited to complete the survey at https://www.surveymonkey.com/r/BQ8R3QK.